Ergonomics is the ability for a product to adapt to both the workspace and the individual.
Cabin designs vary depending on the equipment type, space available and line of sight requirements for the operator. It is important that the equipment manufacturer and the customer communicate on the design and placement of the seating system to insure they get it right for the operators. Seat system selection is critical to the operator's acceptance of the equipment as well as their health and safety.

See the bullet points below for an abbreviated list of engineering considerations for seat system selection and placement:

Select a system for its number of adjustments and the range of adjustability the more adjustments the more adaptable.

Insure that the seat system will accommodate the necessary controls.

Select a system that will fit in the intended cabin design.

Select a system that will accommodate all operators comfortably and achieve the intended visual requirements for safe operation.

Decide whether the cabin will support a fixed seating system or a rotating system for ease of entry and exit?

Will an adjustable footrest be needed? An adjustable footrest will expand the range of operators that a seating system can accommodate.

Is there adequate leg and knee clearance?

Consider the seat system positioning to the window both horizontally and vertically to obtain the optimum line of sight for the operators. Will the seat or system need to tilt to obtain a better view?

Consider operator involvement in the seat system selection and placement process.

Consult an Ergonomist on seat system selection, positioning and human factors.

Address any possible health, safety and regulatory issues, e.g., lower back and neck strain or RM concerns that are prevalent in crane and construction equipment applications.

Develop an ergonomic program, examples can be found at: www.cdc.gov/nisoh/docs/97-117

See https://www.osha.gov/ergonomics and CCOHS - Working in a Sitting Position. These sites address repetitive motion and stress injuries in the work place while working from a sitting position.

Develop an operator training program if not already in place.

Identify if seat restraints are required on moving equipment where operators may be at risk without them.

The following chart is presented as a guide to assist you with adult measurements. The chart shows measurements of German adults in millimeters.

Contact J.R. Merritt Controls with any questions you may have, we will be happy to assist you.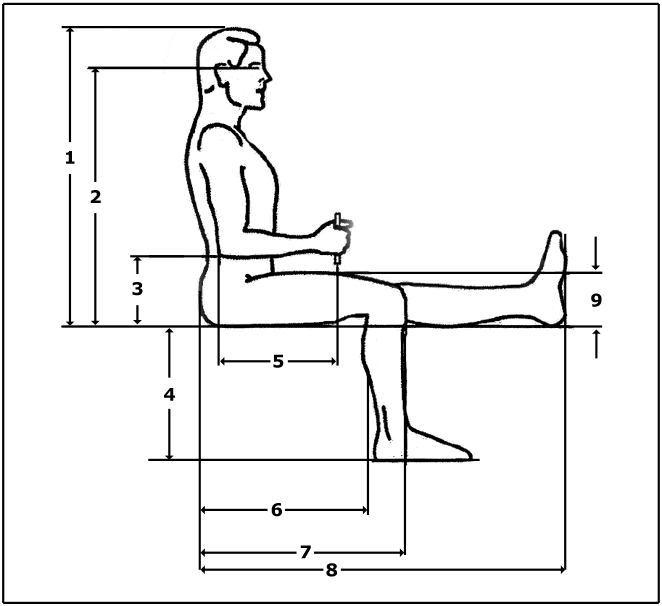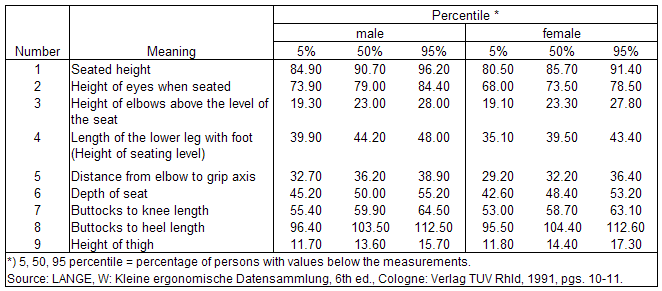 Disclaimer:
The guidelines and recommendations under Ergonomic Armchair System Selection and Placement is for general information purposes. The guidance given if followed and done properly could help reduce risk of injury, but will not necessarily prevent all possible injuries. J.R. Merritt Controls, Inc. makes no guarantee or promises to eliminate every risk or injury. If an operator is experiencing pain or discomfort they should advise their employer and seek immediate medical attention. Continuing to work between the onset of the symptoms with out seeking medical care can worsen the injury.
If used incorrectly any equipment even that labeled ergonomic can cause injury.
J.R. Merritt Controls Inc. does not guarantee that no injury can occur from the use of ergonomic products whether purchased from J.R. Merritt Controls, Inc. or elsewhere.
The above referenced links are made to assist an employer in addressing potential work related injuries. J.R. Merritt Controls, Inc does not make any claims to the validly or content of the information on these websites and furnishes this as informational only as a courtesy.